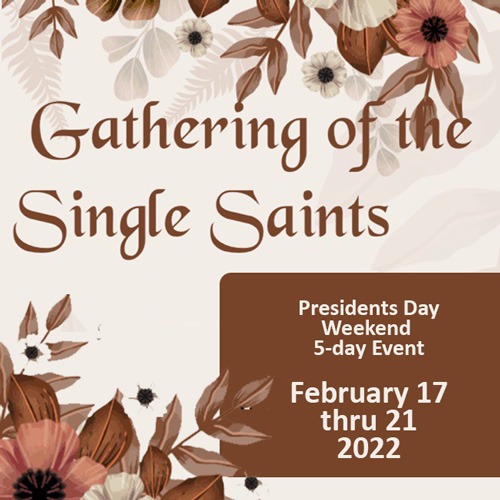 Gathering of the Single Saints 5-day Event
Mustang & Cheyenne Building
3200 N Mustang
Las Vegas , NV 89108
It's our annual Presidents Day Weekend 5-DAY EVENT!
Get ready, and get EXCITED about spending five amazing days with your Singles friends here in FABULOUS Las Vegas! Here's just some of what we have planned for you…
Group Activities & Mixers!
Temple Sessions!
Dances!
Service Projects!
Speakers!
Firesides!
Hikes!
Surprises!
Skip to…
Registration | Schedule | Speakers | Service Project
This event is for all Single Adults 31 years and up. Of course, we expect attendees to strictly follow Church standards.
Learn more about this special event, its history, & why we're doing it for YOU by clicking here.
REGISTRATION SIGN UP
Reserve your spot for this event by making your contribution of support…
No full registration at the door
Only $40 gets you in to this great weekend. Don't wait until the last minute! We need a headcount way in advance of the start of the weekend event.
Register now by making your payment via Venmo:
@Leslie-Roth-2 Memo: Single Saints Vegas, your name, city and state, email address & phone number
$10 – Friday Dance only may be paid in cash at the door or via Venmo @Leslie-Roth-2 memo:Friday Dance, your name, email, phone number, city and state
$10 – Saturday Dance only may be paid in cash at the door or via Venmo @Leslie-Roth-2 memo:Saturday Dance, your name, email, phone number, city and state
SPEAKERS
Saturday Afternoon at 4pm…
Luis Martinez
"Mind Mastery"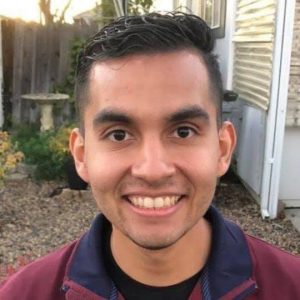 Bio: Luis Martinez was raised in the Nevada Sunrise Stake when his family joined the church in 2003. He has served in the Marine Corps Reserves and is now currently in the Army Reserves. In 2014 and 2015 he served his mission in the India Bangalore Mission. After he came home, He received his Bachelors of Science in social work from BYU-Idaho and Masters degree in Social Work from UNLV. He is currently in his post graduate internship as a clinical social work intern under the supervision of Valerie Dimick at the Valerie Dimick Institute seeing individuals and couples for mental health counseling. He is also a school social worker at Rancho High School providing social/emotional learning and clinical mental health services to students.
Saturday Afternoon at 5:15pm…
Morgan Deane
"Fainted but Not Fallen: Stripling Warriors & Regaining Spiritual Strength"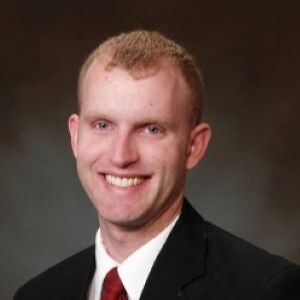 Bio: Morgan Deane is a military historian, free lance author, and former US Marine. He has presented at FAIR and published with Interpreter: A Journal of Mormon Scripture. His books include, Bleached Bones and Wicked Serpents: Ancient Warfare in the Book of Mormon, and the forthcoming, The Book of Mormon and the Historical Just War Tradition.
Sunday Fireside Devotional…
Mac McIntire
International Business Management Consultant and Author

Bio: Mac McIntire is the president of INNOVATIVE MANAGEMENT GROUP, a management training and consulting firm based in Las Vegas. Mac has been in the training and organizational development field for over 35 years. He has consulted with many Fortune 100 and Global 500 companies throughout the world; including such firms as Nippon Steel, Nissan Motors, Bridgestone Rubber, GoldStar, Samsung, American Express, Kellogg, Lockheed, ITT, Westinghouse and other companies. Mac has worked with over 100 casino companies. He specializes in the areas of strategic and organizational effectiveness, quality improvement, customer service and teamwork. Mac is an author of five books and a contributing author to four other books. He also has written numerous articles on management topics and is noted for his innovative approaches to personal and professional development.
SERVICE PROJECT
Saturday morning we'll be pitching in at the Master Gardener Orchard – University of Nevada Cooperative Extension!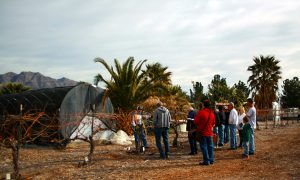 Excess fruits and vegetables produced at the center are given to charitable organizations for feeding the hungry. We'll start at 10 am and contribute our help by cleaning up and mulching around the trees. LOCATION: 4600 Horse Dr, Las Vegas, NV 89131
SCHEDULE OF EVENTS
(Please check back often for the latest updates to this schedule!)
Thursday 2.17.2022
Temple sessions at 5pm or 6pm. Please set up your appointment with the Las Vegas Temple
No-host dinner after the session at either of 2 locations:
Friday 2.18.2022
No-host Daytime activities for your group to choose from:
Old Las Vegas Mormon Fort on 500 E Washington Ave. 89101 Fee- $3
Historic Welcome to Fabulous Las Vegas sign photo op – FREE
Bellagio Conservatory – FREE (check for possible parking fee)
Mob Museum – Please check online for fees
Neon Sign Museum- Please check online for fees
Linq High Roller- Please check online for fee
5pm- Doors open for registration (no sooner)
Open Mix and Mingle after registration, Karaoke
7pm – Dinner
8:30pm – 11:30pm Dance
Saturday 2.19.2022
10am – 12 noon Service Project
4pm – 6:15 Two fantastic speakers (read their bios and talk topics)
6:30pm – Dinner
8:30 – 11:30 Dance
Sunday 2.20.2022
Sacrament meeting with your family ward. For visitors, join your local friend/s or locate a meeting house near you
7pm Fireside with Mac McIntire
Refreshments after Fireside
Monday 2.21.2022
Morning Hike in Red Rock – meeting time to be determined
No-host lunch after the hike
Additional Activities
There will be a couple of "Linger Longer" at a private residence. It might be a little chilly but pack your swim suit and enjoy a heated pool.
_________________________
This special 5-day event is not sponsored by the Church but is supported by the Meadows Stake.
Please share the news of this BIG EVENT and invite all your single friends!
Event last updated: February 17, 2022 8:19 am PST
Categories for this event: